Corona Virus:
Preparing for a Return to Work
Update 6th July 2020
With the easing of restrictions, and the re-opening of business premises, companies are again finding themselves coping with new circumstances and risks.
There are a number of areas where we can assist with advice and practical guidance, and we are happy to talk this through if you contact us in the normal way.
As an overview, we would urge you to check the appropriate government websites for information and timings on the status of restrictions in your area:
      https://www.gov.scot/coronavirus-covid-19/
      https://www.gov.uk/coronavirus
Once you understand when you are able to return to work, you should consider risk management and mitigation strategies to protect your staff, guests, visitors and the general public.  Specific advice for this will vary depending on your industry or profession and the type of premises you occupy or are working upon.
We can assist with a range of tools and templates for all sectors and can offer bespoke advice where a greater level of assistance is required – for example with COVID-specific H&S Surveys and guidance.
Please contact us for further information.
Corona Virus:
Business Insurance Implications
Update 25th March 2020
The following covers some of the most frequent enquiries we've been receiving from customers.  We are sharing them with you in the hope of aiding your understanding of the current insurance landscape. As with most information at the moment, this is a fast moving and fluid situation.
Our phone lines and email remain open for business and our team is available to answer any specific queries you may have. In addition, we are keeping our Twitter and Linkedin pages updated with developments. We welcome your input, questions and engagement by whatever channel is most appropriate and convenient for you.
My business isn't receiving any income – can I have a premium repayment holiday or just cancel all of my insurances until I can get started trading again?
At present the answer is no. However, we and the industry at large are working hard with customers, finance providers and insurers to arrive at a common response to queries such as this.
Please bear with us until we have all had a chance assess the full scope of the economic impact but also the support measures being put in place by Government before taking any drastic action like cancelling insurances or premium payments in the short term which could leave your valuable assets exposed and uninsured when they may be at their most vulnerable.
I'm not using most of my fleet vehicles – can I cancel cover for a period of time and get a premium refund?
Fleet owners and managers should remember that these vehicles are still at risk of theft, malicious damage and fire. It is also the law that all vehicles should be insured unless they have SORN (Statutory Off Road Notification) status with the DVLA.
If our customers move vehicle status to SORN, we may be able to reduce their cover to Fire & Theft only and reduce the premiums accordingly. However, please consider that the pricing mechanism for rebating or reducing premiums for SORN vehicles will vary from insurer to insurer. We will advise on a case by case basis.
I don't know what my financial estimates are for the coming year – how can we calculate agree renewal terms with insurers?
We understand that all firms will be experiencing unprecedented uncertainty and that the usual renewal processes are no longer possible to undertake fully. With this in mind we will work closely with you to ensure that you retain the insurance cover you need for the foreseeable future with a view to revisiting and revising any terms agreed now once normal trading conditions resume.
On a case by case basis, insurers may be offering extensions to policies at renewal to help make this process easier, please speak to us about your individual circumstances to find out what we can do to help you.
I've had to temporarily close my business, will policy terms and conditions apply? Many businesses now closed would normally be treated as being 'unoccupied' for the purposes of most insurance policies.
Please check with us to confirm the status of your business and to check what terms may apply so that you are aware of any obligations particularly in respect of property security and regular inspection where possible.
From speaking to business customers in all walks of life over the last few days, most are optimistic that the measures unveiled by the UK Government and being rolled out from Westminster, Holyrood and at Local Council level will give business a reasonable prospect of surviving this crisis, and making a strong recovery. We sincerely hope so.
Update 20th March 2020
Insurer Responses
As brokers, we are on the frontline of informing customers of the status of policies.  As we have outlined previously, it is not the intention of any insurer to cover an outbreak such as this – unless you are a multinational corporate company buying specific Pandemic cover.
Slowly but surely we are now seeing insurers formally responding to the developing situation on COVID-19.  Where the Association of British Insurers have issued a statement a few days ago (see below), individual insurers have been reluctant to issue general statements about recent events.  In communications to brokers, we are now seeing CEOs of major UK Insurers confirming the stance as we understood it and have been advising along the following basis:
COVID-19 is now a 'notifiable disease'. Some of our commercial policies offer a Business Interruption extension for notifiable infectious diseases. In order for this cover to trigger, there must an occurrence of the disease at the policyholder's premises that causes an interruption or interference with the business.
The government instructing or advising businesses to close, to manage the COVID-19 risk, does not trigger business interruption cover.
We advise that you check your policies for the full detail of the levels of cover included under a Business Interruption section.
Corona Virus and Covid 19 Insurance Update – 18th March 2020
Given the escalation of precautions being requested and imposed by UK authorities, and the rapidly evolving response to the implications of the current Health Emergency, we are intending to issue regular update briefings.  These updates will be based on our research into facts and announcements from insurance and government bodies.
We will endeavour to keep away from speculation and opinion.  However, we would offer our view that the facts in this situation are fluid and that positions may change over the coming days and weeks.
We will be updating this website blog, our Twitter page @GM_brokers and issuing regular emails.
Our Offices and Service Delivery
With immediate effect, we are operating a very restricted staff from our premises.  All face to face meetings are cancelled and we are not accepting any visitors.
However, all of our staff are set up to work from home, with full access to our systems including all customer and policy records, full access to phones and email.  We will aim to maximise our use of email and telephone communications at this time.
You can contact us in the normal way, summarised here:
Update from the Association of British Insurers
The ABI yesterday tweeted a clarification of their view of the general intentions of the Commercial Insurance market, which can be seen here: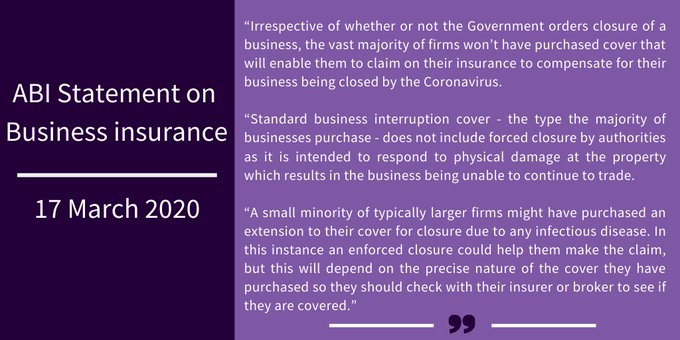 Update from the UK Government:
The Chancellor of the Exchequer last night announced a wide range of measures designed to assist businesses.  The full text of his speech can be seen here:
The mechanics of these measures are gradually being revealed but it is possible that more measures will be announced in very early course.
He made some comment about insurance and "Pandemic Cover" but this is something which is only relevant to multinational firms, or very large corporates.
More pertinent, and consistent with the ABI statement is the following:
"Most businesses are unlikely to be covered, as standard business interruption insurance policies are dependent on damage to property and will exclude pandemics."
Policy Wordings:
Insurance policies covering premises will include wordings about unoccupancy.  So, if you are looking to close your premises temporarily, please check your Terms and Conditions, or ask us for guidance.
16th March 2020
Following our initial summary of 5th March (see below), guidance from insurers is becoming more forthcoming in relation to their response to the COVID-19 Public Health Emergency.
The intention of the Business Interruption section of a Business Insurance policy is to protect a firm against isolated, specific incidents which might affect them. The nature of these incidents are recorded in the policy wording and tend to relate to a reduction in income or profit following a specific event at your own premises, such as a fire, or flood and sometimes the outbreak of a contagious disease.
Generally speaking, where a business, firm, company or charity suffers an interruption which is the result of the outbreak of a 'new' disease (i.e. one not specified in their insurance policy wording) then no cover is in place for any financial losses as a result of the interruption.
We are seeking responses from insurers about support and co-operative practices for those firms which will suffer from a reduction in trade patterns and will endeavour to keep customers informed on this.
As far as Greenwood Moreland is concerned, we remain open for business although we are increasing remote working and are cancelling non-essential meetings. We will also be effecting a Social Distancing policy until further notice.
We issued the following initial guidance on the 5th of March:
Specified Disease Definition
If you have an extension to your policy for Disease, there is no cover for COVID-19 under the specified disease definition, as the disease in question is not specified in that list, nor is it related to any of them. Even if made notifiable, there is no cover unless the definition is amended. Insurers have no plans for such an amendment.
Employers Liability
From a liability perspective, there could be some exposure as specified diseases are not excluded. However, the insured would have to be proven negligent in some way, before any such claim could be considered under the policy. For example if an employer permitted staff to travel to areas which are against WHO or Government Foreign Office advice.
Business Interruption
For cover under BI, it would have to fall under the 'Specified Diseases' extension, and as already stated, COVID-19 is not one of these diseases nor is it related to any of those noted under the policy and as such, no cover will be provided by any insurer.
Looking to speak to an insurance expert? Call 01698 456 500 today.